Front Door Infatuation
Lately I've been thinking a lot about painted front doors. When my husband tore down/re-built our house about 6 yrs ago, he opted to keep the original front door. It is a heavy, carved, dark stained door from the 1920's.....it's very unique and we get a ton of compliments on it, but I feel we need to do something to spruce it up a bit. Although paining the door is out of the question, it hasn't stopped me from dreaming about all of the amazing color options. I would love to have a brightly painted turquoise or yellow door.....but....because that particular look doesn't mesh with the facade of our home, I will just have to settle for admiring these beauties from afar...{*sigh*}
This chrome mail slot, door bell and door knocker are s-t-u-n-n-i-n-g against the turquoise paint color!
source: compulsivelycompiled.blogspot.com
Loving this happy, sunshiney-yellow front door! Again, beautiful hardware....the contrasting door knocker makes such a statement!
source: thediyspot.com
Who hasn't longed for a radient red front door at one time or another?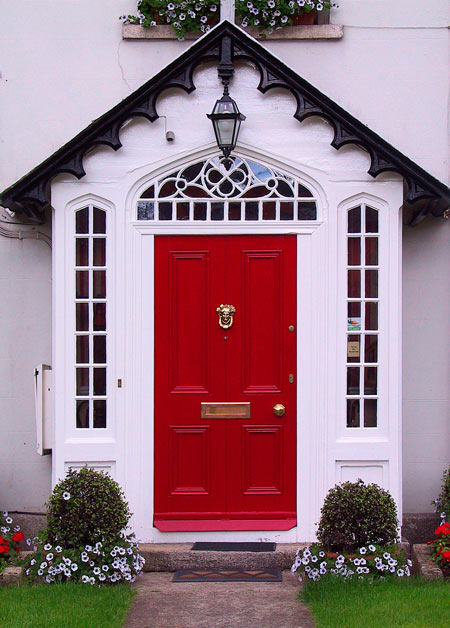 source: creamylife.com
Kelly green! So vibrant! So inviting!
source: simplythesweetlife.com
Oh!!! Hello amazingly, unexpected pink front door! The owner of this spectacular residence is one lucky lady! (notice her pink pillows under the black & white awning in the back yard!! Jealous!)
source: cococozy.com
Again with the hardware! Maybe that's what we need to spruce up our front door!!
source: cococozy.com
Ahhh...a classic black door adorned with gold hardware.....so timeless and chic!
source: elledecor.com
Have you been dreaming of painting your front door?