Restoration Hardware is one of my beloved retailers! Fortunately there is a store located near my house, so it is convenient for me to pop in every now and then to marvel at their creations. I dream of one day having an entire house full of Restoration Hardware furniture, accessories and linens! I adore their Dining Room assemblies! Just look at this table....and those over sized lanterns....absolutely stunning!
I also fancy this stylish Dining Room set up...particularly the upholstered dining chairs... When I saw them, I knew I had to have them!
But as I mentioned in my "Welcome" post a few weeks ago, "My struggle is that I fall out of love with pieces just as quickly as I fall in love with them, which makes for very expensive decorating!" So I knew that I would feel much more comfortable purchasing a slightly less expensive alternative... just in case.
Here is the chair that started it all...the Martine Upholstered armchair from Restoration Hardware priced at $419.00
What I love most about this chair is the shape and the nail head trim...
And here is my Frugal Find! The Becca Linen Dining Room Chair from Overstock.com priced at $189.99! I ordered 2 of them...one for each end of our Dining Room table.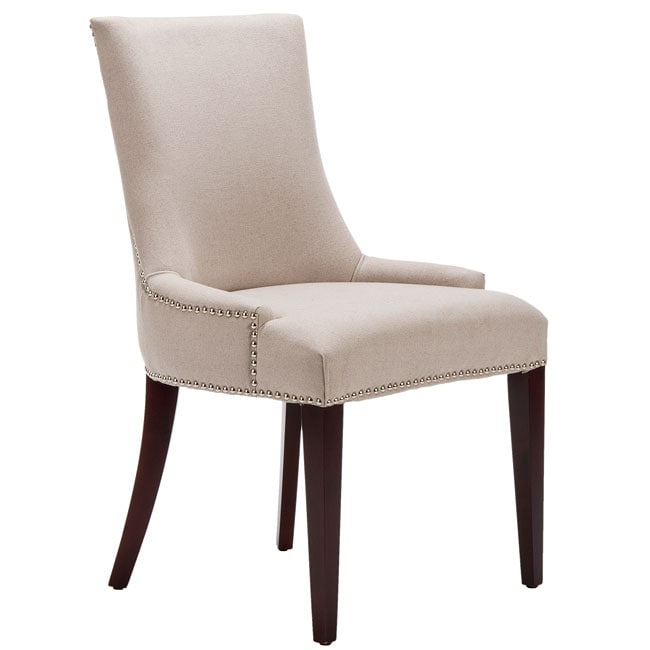 It doesn't have the tufted back like the Martine from RH, but I prefer that as they sit near our sofa, which does have tufting, and I thought it might be a little much. I also like the darker stain on the legs and the chrome nail head trim that wraps around the front of the seat...
I hope everyone has a great weekend...and don't forget to check back Monday for pictures of our Kitchen Remodel!