I know, I know...I was totally M.I.A. last week.... So sorry about that! But to make it up to you, I am going to introduce you to something fabulous that I found online a few months ago.... this tufted linen dining chair...
I'll admit, I haven't shared this fabulous find with you until now because, well, I've been selfish and I wanted them for myself! I knew that if I shared them with blogland they would be gone in no time! But, now that I have a nursery to buy for, these beauties have unfortunately moved to the bottom of my priority list...*sigh*
I have been dreaming of linen dining chairs for my dining room table for quite some time... I was especially inspired by this photograph that I've been hoarding away in my inspiration file...
I actually ordered these chairs from Overstock about 2 yrs ago...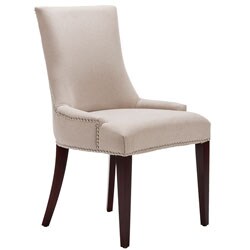 ....but unfortunately, they are a bit too small for my taste.
The great news about the Crown Top Dining Chair is that I compered the measurements to a very similar (yet more expensive) dining chair that I purchased for a client from a higher end retailer, and the dimensions are exact! They are truly substantial chairs...and the best part??...the price of course... You can score TWO of these lovlies for only $205!!!
Let's have another look, shall we??
What do you think about the chairs? I'm hoping one of my readers will purchase these gorgeous chairs...I want to hear all about them so I can live vicariously through you!